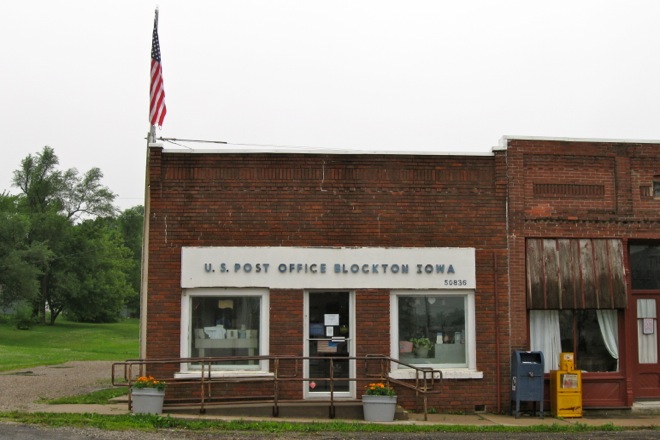 On May 31, 1872, Thomas King sent a request for mail to be delivered to a stop between the Taylor County hamlet of Platteville and Ringgold County town of Redding.The proposed office was to be called Mormontown, with mail delivered three times weekly to serve the village of sixty and surrounding rural area totaling 300 residents. The request was quickly approved, and King served as the town's first postmaster starting on June 12, 1872.
The post office remained Mormontown for the next 15 years before the present name of Bloctkon was adopted on September 8, 1887. The longest-tenured postmaster was Jack Campbell, who had the post from August 5, 1949 until June 30, 1972. Details from the book Blockton, Iowa 1889-1989:
Campbell fondly recalls the days of large volumes of parcel post mail. He once searched through the parcel post bags, which came in the evening for next-day delivery, for a family's new clothes. They had plans to leave for vacation at midnight and needed the items. Campbell spent the evening sorting the parcels so they might pick up the apparel in time for their planned departure.
The post office has been located in its current building since 1964.