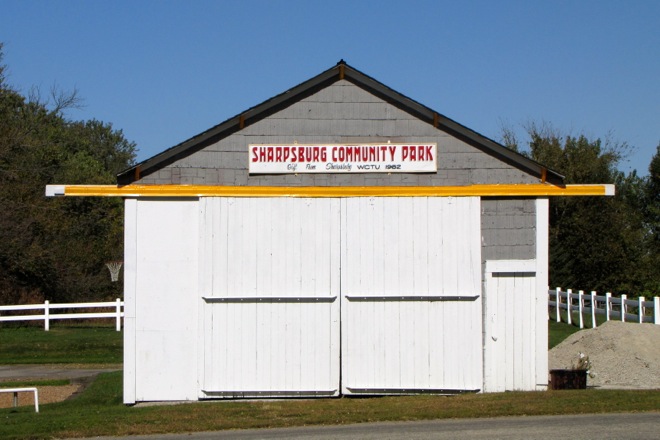 Between 1927 and 1941, the Taylor County town of Sharspburg was one of five in the area to participate in a Home Talent Chautaqua Circuit. The arrangement created annual five-night chautauqua events, with one town presenting a program each night. The Sharpsburg chautauqua was sponsored by the local Women's Christian Temperance Union group, and event profits were used for community improvements.
While the chautauqua circuit was discontinued in 1941, accumulated income was invested so the WCTU could continue to enhance the Sharpsburg community. In April 1967, the group voted to use the funds for a city park. They purchased 4 lots of land to present as a gift to the city and its residents. The park was equipped with picnic tables, swings, slides, and the pictured storage shed.
Sharpsburg dedicated the new park on July 28, 1967. Business firms joined the WCTU in sponsoring the celebration, which included a tractor pulling contest at 9 a.m., kid races and bicycle races at 1 p.m., and a free barbecue in the evening. Pony rides were also available, while lunch was served by local churches.