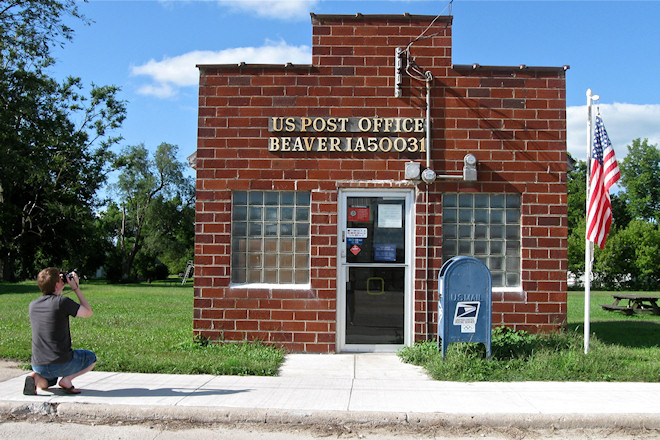 After two and a half years, my project to visit and photograph every community in the state of Iowa is complete. On June 18, 2011, I hosted a celebration in the Jones County community of Onslow, the final stop among 974 communities identified to photograph across Iowa's 99 counties. Though the visit to Onslow marks an end to the first phase of this project, much work remains to uncover the history and stories behind these community photos. From modest city halls to grandiose county courthouses, I will continue sharing my photos on a daily basis on IowaBackroads.com.
While the project officially kicked off with some southwestern Iowa photos in November 2008, my affinity for traveling across the state can be traced back much further. Growing up in Ottumwa, family trips to Iowa's capital city were a common occurrence. The Iowa State Fair was an essential annual event. Travel between Ottumwa and Des Moines included stops at places like Jaarsma Bakery in Pella, the Checkerboard Restaurant in Pleasantville and Fiss' in Carlisle.
My college years were spent at Cornell College in the charming Linn County town of Mount Vernon, which features one of the best small town Main Streets in the nation. Walks from Cornell's historic campus to the critically-acclaimed Lincoln Cafe became a twice-weekly event. Mount Vernon provided a new starting point for Saturday road trips, to the Cheese Factory in Kalona, Bud's Custom Meats in Riverside, and the Fenelon Place Elevator in Dubuque.
Following graduation from Cornell in 2006, my wife Amanda and I spent two years in Vermillion, South Dakota. Our new location provided the opportunity to explore a new part of Iowa, eating tavern sandwiches at Bob's Drive Inn in Le Mars, checking out Iowa's highest point, and enjoying hot dogs from the Milwaukee Wiener House in Sioux City.
We're now back in Iowa, continue to explore, but website updates are currently on hiatus after publishing photos every weekday for nearly two years. Should updates resume, I'll make the announcement on Facebook, or subscribe to our RSS feed to find any upcoming posts.
- Brian McMillin
In the Media
Iowa Backroads has been featured in the media:
Sources
All information compiled on Iowa Backroads is researched via a variety of sources including official city websites, county geological websites, archived newspaper articles, and various community history books via the State Historical Library of Iowa and the Iowa Genealogical Society Library in Des Moines.  A few books have proven particularly invaluable:
Carnegie Libraries of Iowa by John M. Witt
A Dictionary of Iowa Place-Names by Tom Savage
Iowa Post Offices 1833-1986 by Alan H. Patera and John S. Gallagher
The WPA Guide to 1930s Iowa by the Federal Writers Project
Contact Information
Brian McMillin
P.O. Box 221
Berwick, Iowa 50032
brian@iowabackroads.com
(515) 999-5221