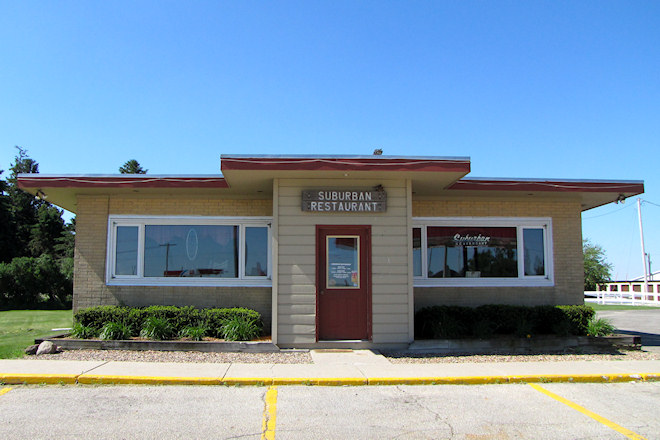 The Suburban Restaurant, located near Gilbert, Iowa, has been locally-owned and operated for for nearly fifty years.  With a menu that features a good variety of steaks, sandwiches, and salads, the Suburban makes for a nice dinner destination if you're in the Ames metro area or traveling along the nearby Interstate 35.
I'd highly recommend the tender bacon-wrapped filet, which arrived nicely cooked and costs several dollars less than most area restaurants.  The ham steak also made for a great main course, while generously-sized hand-breaded tenderloin was one of the best we've tasted since starting this blog three years ago.  Entrees include two sides, plus homemade bread and butter, while sandwiches, all $8 or less, come with a single side.
When you're finished with your meal, be sure to check out the white board of desserts: slices of fruit pies, cream pies, and three-layer cakes are typically available and worth trying.  If you're full, ask for your dessert to go; the wait staff will happily box it up.
The Suburban Restaurant can be found six miles north of Ames (just outside of Gilbert) at the intersection of U.S. Highway 69 and County Road E-23.  You may want to pull out an Iowa map or your GPS before heading out if you're traveling on I-35, as there's not a direct exit.  They're open Tuesday through Friday for lunch and Tuesday through Saturday for dinner; reservations are recommended on Friday and Saturday nights.
Suburban Restaurant
17029 U.S. 69
Highway 69 and County Road E-23
Ames, Iowa 50010
(515) 232-3135