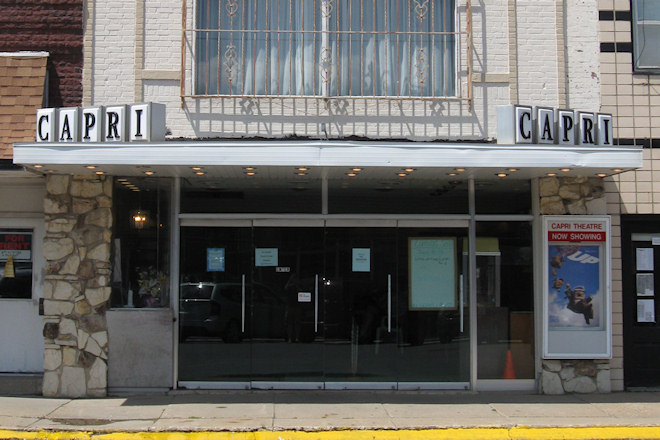 Once part of the Iowa-based Fridley Theatres chain, the one-screen Capri Theater in New Sharon, Iowa, is now operated by a non-profit community organization.  Since acquiring the theater, the group has managed to keep prices low while improving the moviegoer's experience.  A few years ago, a fundraiser was held to install plush new cushioned seats, while just last year a grant allowed the purchase of a new projector.
The theater shows a first-run movie each weekend, with two shows nightly on Fridays and Saturdays, and a single matinee show each Sunday.  Tickets are a mere $3; we purchased two tickets, popcorn and a large drink for just over $10, or roughly a third what we spent at a big-city megaplex cinema the week before.
Beyond the pleasant atmosphere and cheap prices, you'll find a pleasant friendly staff on hand to disperse the tickets and concessions.  All in all, the Capri Theater is one of the best places in the state to see a movie. For information on what's currently playing or coming soon, check out the theater's Facebook page or call (641) 637-4055.
Capri Theater
107 East Market Street
New Sharon, IA 50207
(641) 637-4055