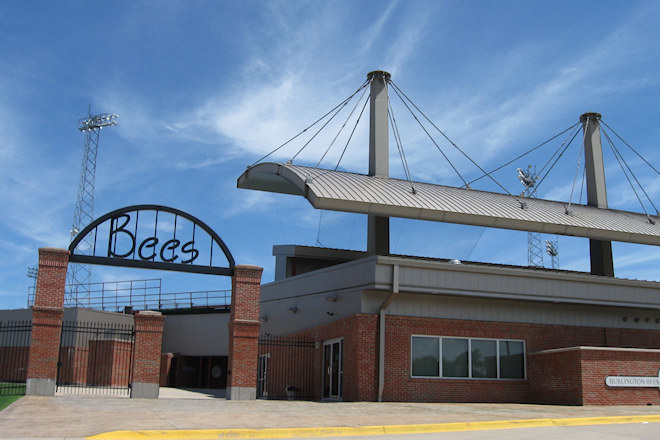 Few things are more synonymous with summer than baseball, and Iowans are fortunate to have many opportunities to enjoy professional baseball throughout the season all across the state.  The most well-known Minor League team in the state is the Iowa Cubs, the Des Moines-based Triple-A affiliate of the Chicago Cubs.  Nearby Omaha is home to another Triple-A team, the Royals, and lower-level Single-A baseball teams play in Davenport, Cedar Rapids, Clinton and Burlington.
Burlington is home to the Burlington Bees, the Single-A affiliate of the Kansas City Royals.  Located in the southeastern corner of the state, Burlington is the smallest town in the state with a professional team, and Community Field, where the Bees play, is the smallest stadium in the entire Minor League Baseball system.  Renovated in 2005, there are advantages to the small size: tickets are cheap, seats are close to the action, restroom lines are short, and you won't break the bank buying food from the concession stand.
If you can attend a game on a weeknight, regular promotions make a trip to the ballpark even cheaper.  On Mondays, general admission tickets are two dollars, along with hot dogs, popcorn and soda for only a buck.  Pick up the local paper on Tuesday for two-for-one tickets, kids eat free Wednesdays, and cheap drinks are available each Thursday.  If there isn't a special ticket promotion, I'd recommend spending a bit extra for box seats.  They're closer to the action and significantly more comfortable than the general admission bleacher alternative.
The Bees play baseball from April to September.
Burlington Bees
Community Field
2712 Mount Pleasant Street
Burlington, Iowa 52601
(319) 754-5705
Official Website