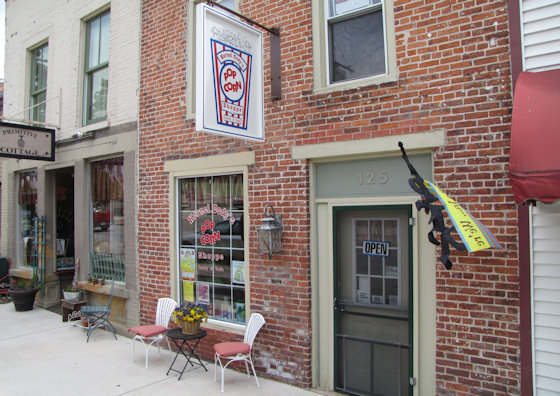 Located on the banks of the Mississippi River, the community of Le Claire is home to one of the finest downtown districts in Eastern Iowa.  You can easily spend a few hours in the community perusing the gift and antique shops, many of which are located in historic buildings and homes dating to the late 1800s.  Families may enjoy exploring the Buffalo Bill Museum, which includes a tour of the Lone Boat Steamer, the only remaining wooden hull steamboat in the United States.
Whether you're planning on spending an hour in Le Claire or just passing through, one place you won't want to miss is Kernel Cody's Popcorn Shop.  Open every daily except Monday, this unique locally-owned shop produces over twenty varieties of popcorn.  My favorites include Sour Cream and Chives, a combination of flavors usually reserved for chips, and Caramel Apple, which features superb caramel corn mixed with artificially-flavored (but ridiculously tasty) fruity, green apple popcorn.
The most popular varieties are available for sampling at the front of the store, while all flavors can be purchased in large resealable plastic bags or in your choice of traditional popcorn tins.  You can also pick up a traditional paper bag of fresh-popped "regular" popcorn or browse their selection of bulk candy, chocolates and soda.
Note: If you're still hungry following your stop at Kernel Cody's, Le Claire is home to a number of good, local dining options.
Kernel Cody's Popcorn Shop
125 N. Cody Road
Le Claire, Iowa 52753
Website