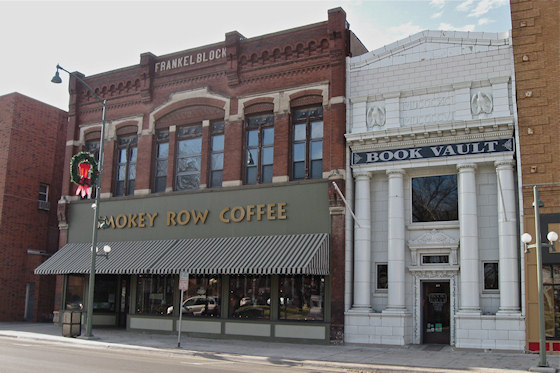 Downtown Oskaloosa is home to a number of local businesses, including the aforementioned Smokey Row Coffee House.  Though I've stopped at the coffee shop many times, I never had a chance to stop by the independent bookstore next door.  It's located in a wonderfully restored bank building and is a must-stop shop if you're looking for a great read for yourself or others.
The Book Vault is cozy and well-organized.  Step inside the door to find the best sellers along the north wall.  A small nook in the middle of the store is dedicated to all things local; it's definitely the best selection of Iowa-related books in the area.  The back room features a fabulous selection of cookbooks and features a working kitchen for regular cooking demonstration events.  The upstairs Children section is fun, while a third floor nook features some cozy chairs for reading and relaxing.
Beyond the books, you'll find a nice selection of gift items, including local puzzles of Oskaloosa landmarks, like the county courthouse which dates to 1886.  As an added bonus, sign up at checkout, and you'll automatically get a $10 credit for each $100 you spend at the store.  Best of all, you'll get great service at the Book Vault.  If you have a question, need a recommendation or have a special order request, just ask at the front desk.  They'll be happy to help.
Book Vault
105 S. Market St.
Oskaloosa, Iowa 52577
(641) 676-1777
Official Website