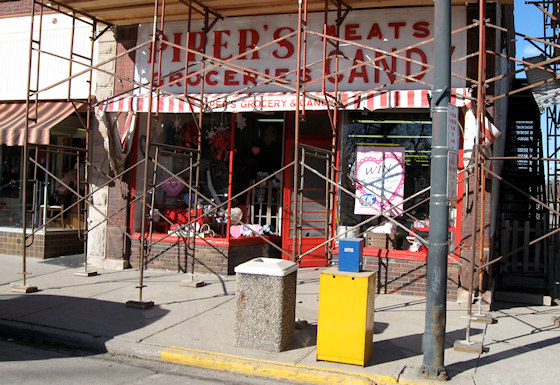 Located on the square in Chariton, Iowa, Piper's Grocery is a local institution.  It has been a part of the community since 1903, and located in the same location since 1905.  While you can still find some basic groceries available to purchase, the main reason to make a trip to the store is for their homemade candy.
Budget fifteen minutes to a half hour to get the most out of your stop.  The helpful staff can answer questions and help hand-pack your desired combination of candies into the gift box of your choice.  Their most popular candy is the turtle, made from pecans topped with caramel and chocolate.  My mom's favorite choice is their pecan-wrapped caramel rolls, while my wife's top pick is their English toffee squares.
When we first made a stop in February 2009, I asked to try one of their mints.  A single mint turned into a half-pound box, and a separate trip later in the year to pick up more.  The smooth mints are tremendously addictive, available in a variety of seasonal colors, and can be purchased in gift boxes of their own if desired.  (If you just want a few, they can pack mints in a small wax paper bag.)
If you're in a hurry, you may want to opt for one of the chocolate assortments, as customization can be time consuming depending on the staff member assisting you.  You'll get a nice combination of turtles, caramel rolls, English toffee, fudge and nut clusters.  Available in a variety of sizes, these assortments are pre-packed making for quick pickup and checkout.  All of the assortments, pre-packed or custom, can be gift wrapped at no additional charge.
Like most places we feature on Iowa Backroads, Piper's Grocery is well worth a stop if you're in the area.  If you can't make it to Chariton in the near future, but want to try their chocolate confections and/or mints, you can place an order online or by phone at (800) 479-1343.  Note the online ordering system is fairly clunky; a phone order may be simplest during business hours.
Piper's Grocery
901 Braden Ave.
Chariton, Iowa 50049
(800) 479-1343