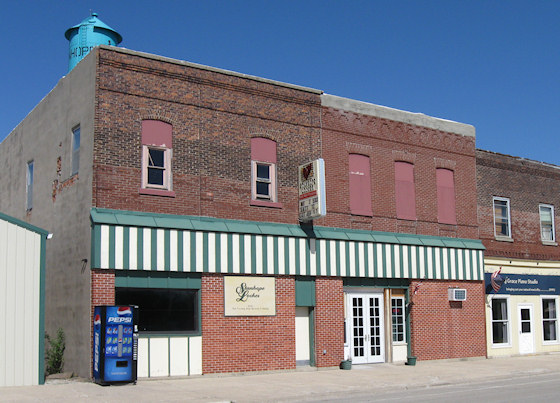 We first experienced beef jerky from the Stanhope Locker a little over a year ago, during the trek from central Iowa to southeastern South Dakota for Amanda's graduation ceremony.  Instead of the quick but uninteresting interstate trip, we drove along several two-lane state and county highways including a stretch of State Highway 17 through Stanhope, Iowa.
On the west side of the Highway, the Stanhope Locker is one of a handful of businesses in the small community.  Parking is easy, as you can pull your car over to either side of the road.  Spend a few minutes exploring the store, which includes a nice selection of sauces and seasonings to accompany the traditional meat locker purchases.
The Stanhope Locker's signature product is beef jerky, which is thick-cut and well-seasoned with a combination of brown sugar, peppers, and spices.  It's made in small batches, marinated and smoked for several days to produce optimal flavor.  The jerky is vacuum-packed and can usually be purchased in quantities ranging from $5 to $20.  If you plan to eat the jerky in the car, pick up a reasonably-priced soda within the store or from the machine outside.
Ever since that initial stop, we've been back to the locker many times for beef jerky.  It's a must-stop destination if we're traveling in the Stanhope vicinity during business hours.  The locker is open weekdays from 7:00 to 5:30 and Saturdays until Noon.
Stanhope Locker
465 Parker Street
Stanhope, Iowa 50246
(515) 826-3280