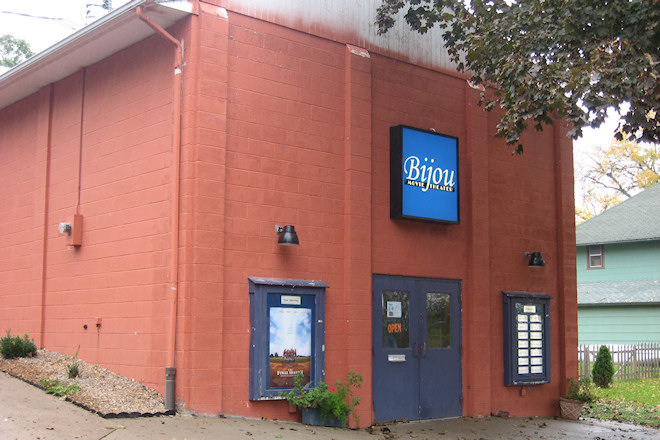 A few months ago, my wife and I went with a friend to see The Final Season, a movie based on the extraordinary success of the high school baseball team in Norway, Iowa.  While the movie itself wasn't memorable, the theatre we saw it in was.
Instead of seeing the movie in one of the cookie-cutter megaplexes in Cedar Rapids or Iowa City, we opted to go to the cozy, single-screen Bijou Movie Theater, located in downtown Mount Vernon.
The lobby is small, featuring a counter where tickets and treats can be purchased all at once.  Prices for popcorn and drinks are modest, and half-price refills make the concessions even more appealing.  The owners encourage recycling, so you can even bring in your own containers to be filled for a discount.
Before the show, the owner's husband Jerry takes a few minutes to introduce the film and give away prizes, such as free popcorn or movie memorabilia, to a few members of the audience.  Before the show, he also effectively encouraged the kids in the audience to be quiet during the movie, keeping it enjoyable for everyone in the theater.
Because it's a small operation, you may not see movies the first week they're available.  However, if they're showing a movie you're interested in seeing, a visit is highly recommended – it's definitely a first-class experience.