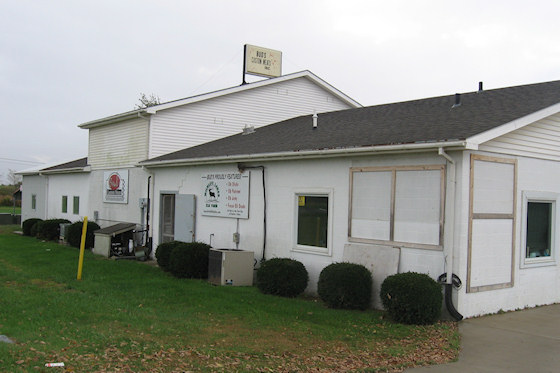 Riverside, Iowa, has had its share of national attention.  In 1985, it was declared the official future birthplace of William T. Kirk, a fictional character played by William Shatner in the television series Star Trek.  Nearly twenty years later, in 2004, the community was home to Invasion Iowa, a reality television series produced by Shatner which aired on the Sci Fi Channel.
While Star Wars and Shatner fans have made the 'trek' to Riverside over the years, the town is likely overlooked by many travelers.  That said, if you're looking for some great beef jerky, you'll want to stop.
Located on the edge of town near the intersection with Highway 218, Bud's Custom Meats offers top-notch jerky, plus everything else you'd expect at a meat locker and more.  Jerky comes in a couple varieties, but you can't go wrong with the original: the thin pieces are large and tasty, featuring just enough pepper and seasoning.
Unlike many of the other places I've featured in the past, you don't have to be traveling near Riverside to enjoy the beef jerky experience.  Just give them a call at (319) 648-3999 and place your order.  I ordered a couple half-pound bags for Christmas gifts, and they were shipped quickly and at a reasonable cost.