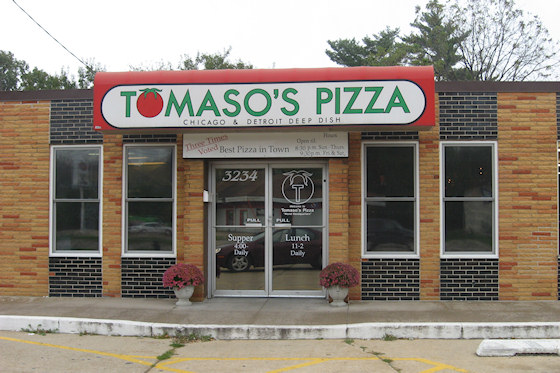 It can sometimes be difficult for a locally-owned pizza place to differentiate itself from the chain-dominated competition.  Fortunately, that is not the case with Tomaso's Pizza in Cedar Rapids, which is best-known for its deliciously unique "Detroit-style" deep dish crust.
Like traditional Chicago-style pizza, the cheese and toppings are placed first on the crust, with the sauce added last.  The difference with the Detroit-style pizza is the absence of a "lip" for the crust.  This allows the cheese to melt and caramelize along the edges of the pan, resulting in an excellent pizza unlike anything else in the area.
If you make a trip to Tomaso's, expect superb pizza and a well-kept dining area but not a formal dining experience: after you place an order, you will be responsible for gathering white styrofoam plates, red plastic cups and metal forks for your pizza.
Tomaso's Pizza
3234 Center Point Rd NE
Cedar Rapids, Iowa 52402
(319) 364-4313
Official Website
Tomaso's has an additional location in Cedar Rapids, plus locations in Hiawatha and Marion.  Hours vary by location; for details, visit the official website.