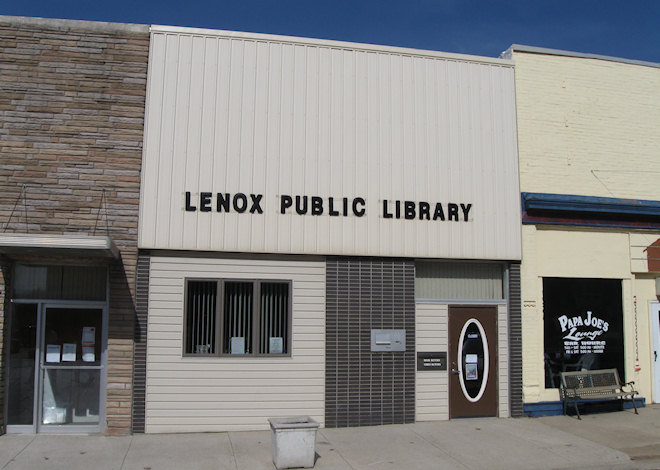 Representatives from community clubs and organizations came together on Monday, March 17, 1941, to formally establish the Public Library Association of Lenox, Iowa. During the meeting, officers were appointed to the library board, a constitution was written, and plans were solidified to open the library within two weeks.
The newfound library was located in two rented rooms within a downtown bank building. Volunteers installed shelves in the rooms and organized the initial collection of books, donated entirely by local community members. In addition to book donations, library officers also encouraged monetary contributions. The first donor to the library was from nearby Creston:
Mr. N. I. Menzer of Creston was in Lenox Tuesday and, after hearing a brief talk on the library, asked if he could contribute. His check for $5 is now in the hands of the treasurer. Mr. Menzer has the honor of being the first cash contributor.
from the March 20, 1941, edition of the Lenox Time Table newspaper
Other donations were received by community groups and individuals, and by the library's opening, the association had collected an additional $40. Due to lack of funds, a librarian was not immediately hired; the library was run entirely by volunteers and open twice weekly.
The current (pictured) library location was established in 1975. For more details on the library's collections and features, check out their well-maintained website or Facebook page.