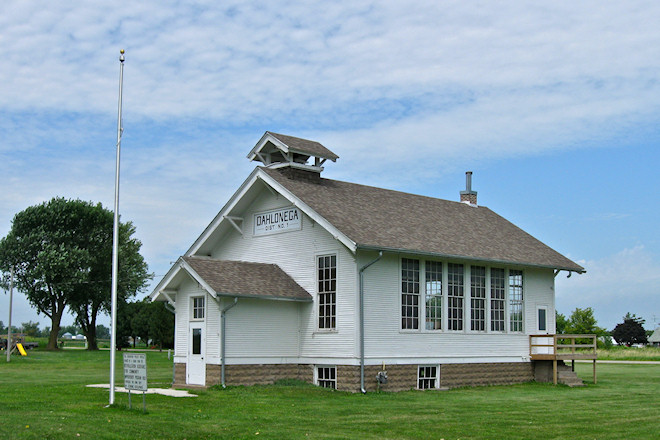 This historic one-room school house sits two miles northeast of Ottumwa in the center of the the unincorporated community of Dahlonega. Built in 1921, the 1,100-square-feet building served area students through the 1958-59 school year. Although it's been vacant since that time, it served as the township polling place through 1986, and time and money has recently been invested to revitalize the building with a new roof, new paint, and improved interior.
Dahlonega was once a thriving hamlet and in 1843, was one vote short of becoming the Wapello County seat. Legend says the one vote loss was due to Lewis Clapp, an early settler who owned an apple orchard on the west edge of Dahlonega who was concerned a county seat designation would cause the community to grow so much that mischievous boys would steal his fruit.
Despite the election results, Dahlonega experienced growth in the following years and decades. A post office was established within the general store in June 1844, while the first church and school were built in 1846. By 1850, the town population had risen to 150; that number doubled by 1856. By that time, Dahlonega was home to three general stores, a tavern, a blacksmith shop, two meat-packing houses, a public hall, a pottery shop and hotel.
By 1900, the town's population had diminished and stores and businesses shuttered. The Dahlonega Post Office was officially discontinued November 30, 1907.