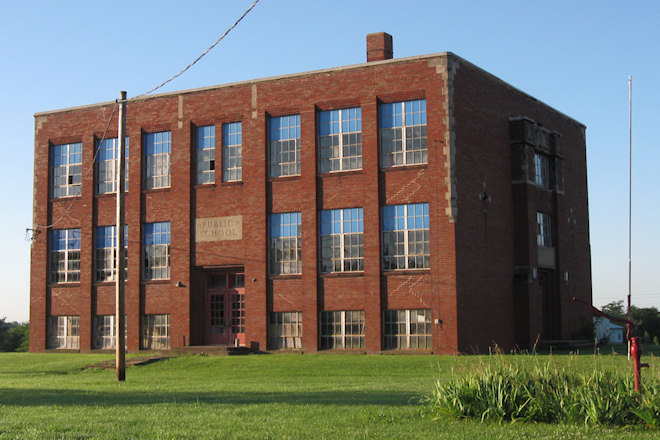 The public school building in Hillsboro in Henry County, Iowa, has sat vacant since 1986. The red brick building was constructed fifty years prior and originally used as the high school for Hillsboro area students. When Hillsboro aligned with Bonaparte and Farmington to form the Harmony School District, the school became a K-6 elementary school for students in the immediate area, before being used for all third and fourth grade students across the district.
Proposals to close the school surfaced as early as 1979, as part of a bond proposal to relocate all students to Farmington, the largest community in the district. The proposal was soundly defeated, largely due to voters from Bonaparte and Hillsboro, where older buildings would have been closed if the bonding plan passed. The defeat provided a reprieve for the Hillsboro school, though closure of either the Bonaparte or Hillsboro school buildings quickly became imminent. The State Department of Public Instruction recommended the Hillsboro location be closed, and the Harmony school board voted to do so following the 1985-86 school year.
Citizens in Hillsboro were unhappy about the closure, but threats to change districts or take legal action against the Harmony school board never materialized. Fourteen years later, the Harmony School District presented a bond proposal to renovate the elementary school in Bonaparte as part of a district-wide facility improvement plan. Hillsboro residents, possibly still unhappy about losing the closure of their school building, overwhelmingly voted against the proposal 83-7.