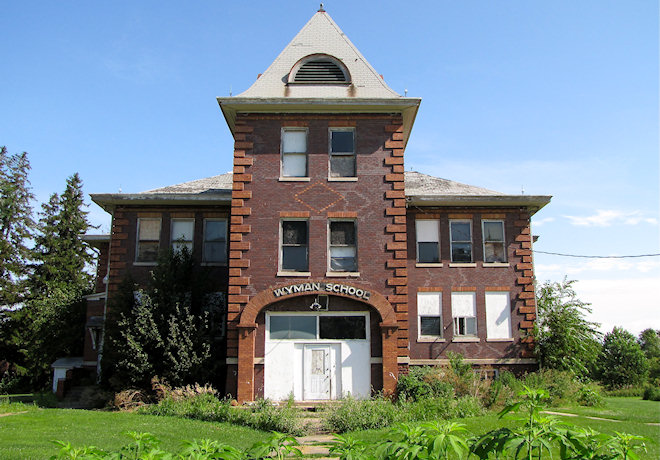 This three-story school opened to students in Wyman when three nearby one-room county schools were consolidated. Constructed in 1912 at a cost of $15,000, the red brick building served all grade levels of students for over forty years. The last high school class graduated from Wyman in 1956; the following year, further consolidation made the school part of the nearby Winfield-Mt. Union School District. Wyman School served as an elementary school until 1978.
Following the closure, the school went up for auction and was purchased by local businessman Keith Jones. Both alumni of Wyman High School, Keith and his wife Pat started a clothing business in the former school building on April Fool's Day in 1980. The store originally focused on jeans and overalls, but quickly grew into a full-fleged family clothing store. Merchandise spread from classroom to classroom, and the store became a destination from customers across southeast Iowa.
Business at the Wyman Wearhouse wasn't limited to Iowans: Pat noted she had sold clothing to visitors from around the United States and the world, from Alaska to Australia. The clothing store operated successfully for nearly two decades before the owners decided to retire and sell the former school in 1999. Sadly, in the last decade, the school building and surrounding grounds have fallen to a state of disrepair. Windows are broken or boarded, and overgrown shrubs and weeds surround the property.
Alumni and friends of the Wyman School held their 75th and final reunion banquet in July; with a aging and dwindling alumni population, the group decided this year's reunion would be its last. Wyman is an unincorporated town located in the southwest corner of Louisa County; the county genealogical website features more information on the origin of the community and its school.
More Iowa Schools
In last Sunday's Des Moines Register, Iowa columnist Kyle Munson highlighted a few of the former brick school buildings across the state. While many of these buildings stand vacant, others have been renovated and repurposed as homes, community centers, or businesses. Beyond the column, Munson is working on compiling an A-Z list of former schools across the state.