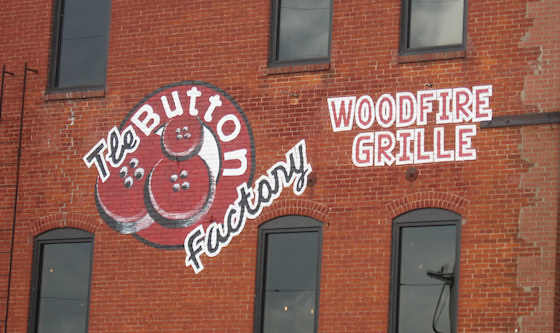 There's no doubt that the downtown districts in many Iowa cities have seen better days. National retailers have opened cookie-cutter stores on the outskirts of towns, forcing local businesses to go under. Downtown areas once bustling with activity are now filled with dilapidated buildings and empty storefronts.
Fortunately, Muscatine seems to an exception, as a number of well-kept shops, charming boutiques, and local restaurants line the city streets. One of the highlights of the downtown area is the Button Factory Woodfire Grille, an upscale casual restaurant that combines first-rate food with great service and spectacular atmosphere.
In my recent visit, I tried the grilled sirloin meatloaf, which was named one of the best entrees in Iowa by the Des Moines Register. The perfectly-moist meatloaf featured a bourbon barbecue glaze and was served under delicious, from-scratch garlic mashed potatoes and French-fried onions.
Homemade rolls with cinnamon butter and in-house salad dressings are a welcome added touch, though the salad itself (composed of mostly iceberg lettuce) was slightly disappointing.
Finally, it's hard to say enough about the atmosphere. The building, which used to be a pearl button factory, has been wonderfully restored. Seating is plush, and the view is unbeatable since the dining room overlooks the Mississippi River. If you're considering a visit to Muscatine, make the Button Factory your dining destination.