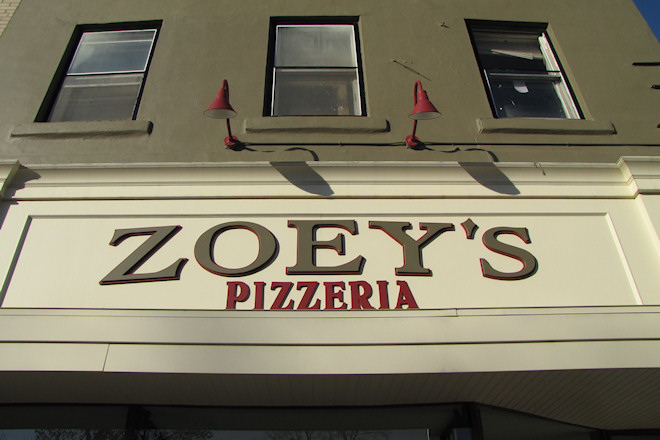 Located on the square in downtown Marion, Zoey's Pizzeria will celebrate its twentieth year in business in 2011. Zoey's keeps things simple with a small menu built around two styles of pizza. While many patrons swear by for the deep dish Chicago-style pizza, the New York thin crust pizza rivals any restaurant in the state. It's thin but not too thin with the right proportions of sauce, cheese and toppings. You'll be satisfied with a basic cheese pizza, but more adventurous diners will want to try the "Zoey" combo pizza or "Z-Taco-ey" pizza, which is topped with seasoned beef, onions, cheddar and mozzarella cheese along with sour cream, lettuce, tomatoes, black olives and seasoned tortilla chips.
When dining in at Zoey's, don't leave without ordering a "Zookie" for your table. It's a thick chocolate chip cookie baked and served warm in a deep dish pizza pan, topped with vanilla ice cream, chocolate syrup, and whipped cream. The bites get better as you work through the cookie with the melting vanilla ice cream, gooey chocolate chips, and warm cookie dough merge. You'll want to split the dessert and may consider ordering a glass of milk, served ice cold alongside the Zookie.
Note that Zoey's gets busy on the weekends, and the small restaurant doesn't have much in the way of a comfortable waiting area. Be prepared to sit along the window sill, hover in the doorway or, if it's a nice day, sit street-side while you wait for a table.
Zoey's Pizzeria
690 10th Street
Marion, Iowa
(319) 377-2840
Website