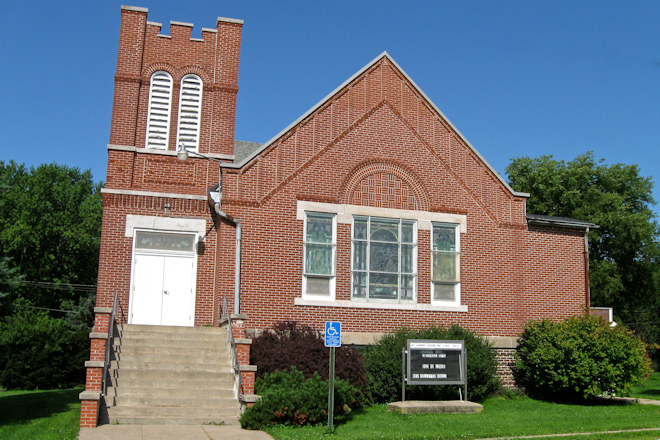 The history of the United Methodist Church in the Benton County town of Mt. Auburn can be traced to 1863, when revival meetings were conducted by Rev. Faucet in the local schoolhouse. The school served as a meeting place for nearly a decade before articles of incorporation were formalized for the First Methodist Episcopal Church of Mt. Auburn in 1872 with the first church built the following year.
The first church was destroyed by tornado in 1888, so another church was constructed and dedicated in 1889. As the congregation grew, more space was required, so the second church was torn down to make way for a new building. The cornerstone was laid Sunday, October 12, 1913, with a dedication ceremony helped May 5, 1914. Constructed at a cost of $13,100, the church was built with donated labor and some materials from the prior church building. The brick building features impressive stained glass windows, given as gifts and memorials at the time of church construction.
The Mt. Auburn United Methodist Church has approximately 65 members with an average weekly attendance around 20. Services are held weekly at 10:00 a.m.