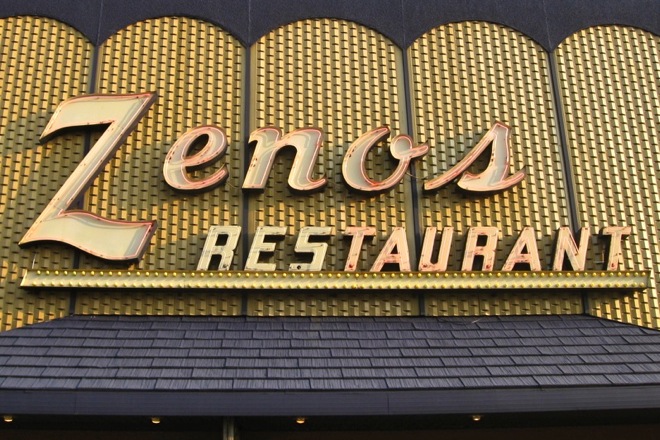 Located in the heart of Marshalltown, Iowa, is Zeno's Pizza, an established restaurant serving well-prepared, thin crust pizza at a reasonable price.  Zeno's keeps things simple with their menu, featuring garlic bread and lettuce salads as the only options besides their classic pizza pies.
When ordering, choose from a handful of specialty pizzas (including an intriguing bacon-sauerkraut option), or opt to build your own pizza from a number of standard toppings.  The pizza begins with a thin, perfectly crispy crust, followed by a layer of tomato sauce, your choice of toppings, and an ample amount of cheese.
Beyond the food, the atmosphere satisfies the "old-fashioned pizza house" requirements, complete with textured mustard-yellow walls and padded wooden booths.  We found the wait-staff to be incredibly friendly and efficient, turning around the salad, pizza, and refills in an extraordinarily prompt manner.  If you're in the Marshalltown area, Zeno's is a worthy dinner destination.
Zeno's Pizza
109 W Main St
Marshalltown, IA 50158
(641) 752-3214