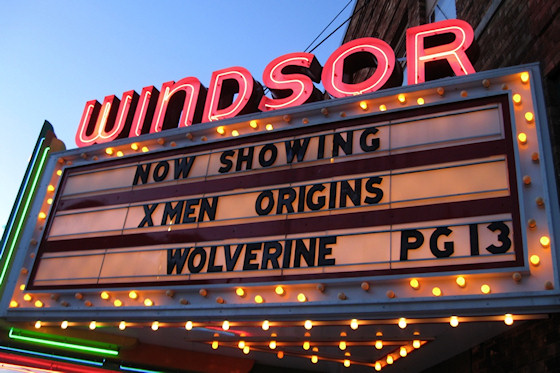 Though Iowa is home to many one-screen movie theatres, few have a more compelling story than the Windsor Theatre in Hampton, Iowa.  Located on the northwest corner of Hampton's picturesque courthouse, the theatre plays first-run movies nightly, with extra shows on Friday, Saturday, and Sunday.
The Windsor Theatre was constructed in 1913 and in continuous operation through May 1996.  When the theatre ceased operation, the community took action.  A group of students and adults banded together to form a non-profit organization dedicated to reopening the theatre.  Over a quarter-million dollars was invested to purchase and renovate the facility, which re-opened in mid-1999.
The beautifully-remodeled theatre features a large screen, plush seating, and sound and picture far superior to most small Iowa theatres.  Arrive a few minutes early to peruse the cozy lobby and grab a glass of soda and bag of popcorn to enjoy during the film.  Movie tickets are $4.00 for adults and $3.00 for youth; seniors may want to check out the Sunday matinees for the $2.00 special.
Windsor Theatre
103 N Federal St
Hampton, IA 50441
(641) 456-4389
Official Website