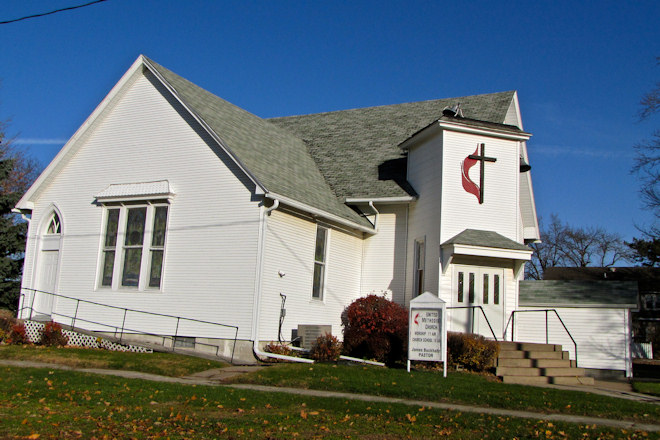 Interest in a Methodist Church in the Page County town of Braddyville began as early as 1840, coinciding with the community's first settlers. In the 1860s, a circuit was formed, with a minister traveling by horse to hold church services in Braddyville and surrounding hamlets. As the town grew, so did the congregation of the Methodist Church, and in 1900, the church building was significantly expanded in 1900. Major improvements continued with technology advances, such as the installation of electric wiring and the installation of a new coal furnace.
In 1947, the growing youth group worked with Pastor Clarence Wollard to raise funds to add a basement to the church. Money came in quickly, and soon dirt was moved beneath the church to make way for the basement, which has been remodeled and enlarged twice since. A major remodeling project began in the sanctuary in 1961 with the installation of a new alter, refinished pews, and new carpet. A dedication service was held in June 1963.
While a March 29, 1979, tornado caused significant damage, the sanctuary remained intact and became a gathering center for clothing, food, and household goods. The basement was used to feed volunteers who helped with town cleanup and served as the headquarters for the Salvation Army's presence in Braddyville. Improvements to the church continued, with new stained glass windows in 1984, new siding in 1992, a new roof in 1998, and new front doors in 2001.
Two pastors serve the Braddyville church along with others in Blanchard, Coin, Locust Grove, Northboro, Norwich, and Shambaugh. The church has about 40 members with Sunday attendance averaging 20.