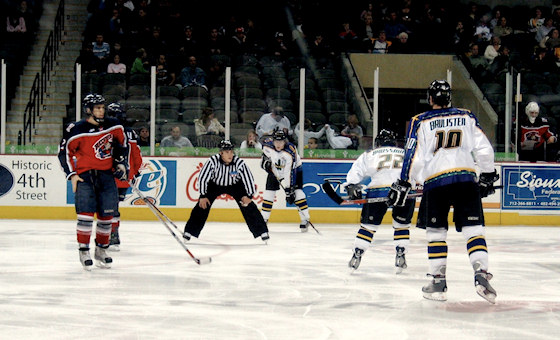 The amateur and minor league sports teams in Iowa are a great source for entertainment year-round.  Smaller cities like Burlington and Clinton sport professional baseball, while larger communities such as Davenport and Des Moines offer arena football, soccer, and more.
Sioux City is home to the Musketeers, one of twelve teams in the USHL junior hockey league.  With over 30 home games this year at the Tyson Event Center, there are plenty of opportunities to catch an exciting game.  The atmosphere is great, seating is plush, and the PA, music and occasional lighting effects complement the action well.
Best of all, the price is right: for under $15, you can get a front-row view of the action; or, you may opt to save a few bucks and choose seats in the third row or higher.