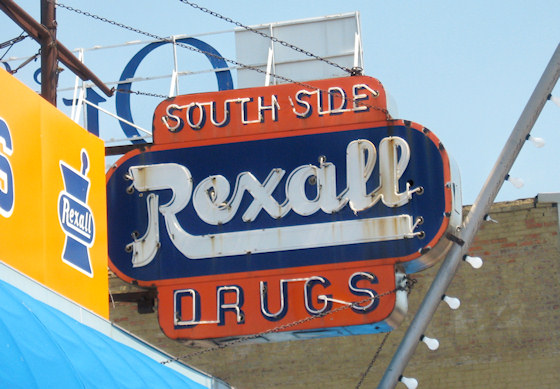 There's nothing quite like a hand-mixed Cherry Coke from the soda fountain at South Side Drugs, a family-owned drugstore in my hometown of Ottumwa, Iowa.  It may lack the charm and character of other soda fountains in the state, but that doesn't mean it's not worth a visit – especially if you're thirsty!
The soda lineup is simple: you choose from cherry, lemon, vanilla, or chocolate flavoring to be mixed with Coke, Diet Coke, or Sprite.  Beyond drinks, you can snack on crackers or peanuts, order a bowl of Campbell's soup, or opt for a from-scratch milkshake.
Thankfully, the atmosphere has improved drastically from past years, as a long-needed smoking ban was recently put into place.  Combine smoke-free air with ridiculously cheap prices, and you can safely conclude there's no better time than now to stop and enjoy a delicious soda at South Side Drugs.