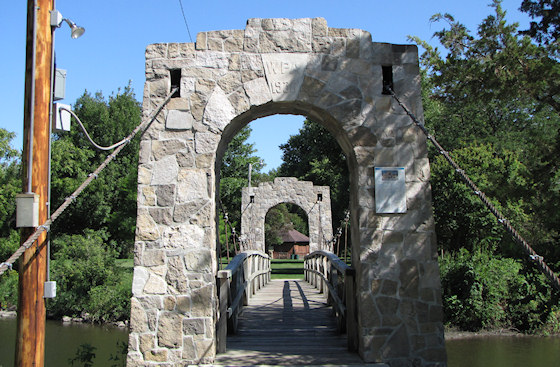 With summer just around the corner, now's the time to take a road trip to Story City, Iowa, a pleasant community just off Interstate 35, ten miles north of Ames.  On the east end of the city limits, you'll find two sites worth visiting – a Swinging Bridge dating to 1936 and an antique carousel from 1913.
The bridge was one of a handful built across the nation as part of the Works Project Administration.  It isn't as fun to walk across as the bridge in Columbus Junction, but it is in much better surroundings and is worth a longer stop.  Budget some time for photos or to roll up your jeans and walk across the rocks on the stream's shore.  Frisbee golf fans will appreciate the nine-hole course adjacent to the bridge.
The carousel across the street dates back even further, though it wasn't permanently placed in Story City until 1938, after traveling around the state for the past twenty years.  The carousel was in operation for forty years before going into temporary closure due to wear and tear.  Luckily, the carousel was resurrected in the early 1980s and still looks spectacular today.  While you're waiting to board the carousel, take a look at the historic photos and information within the carousel or grab a bag of fresh-popped popcorn.
After stopping at the carousel, if you're looking for a bite to eat, skip the fast food chains by the Interstate and head downtown to Alley Pizza.  It's open seven days a week for dinner and weekdays for lunch.  The pizza's great, but finding a place to eat it can be a challenge, as they mostly focus on delivery and carry-out orders.  A single table is available if you opt to dine inside.  On a pleasant day, grab the pizza and a Pepsi to go, and enjoy your meal in the park.
If you're entering Story City from the Interstate, the swinging bridge and park is on the left while the carousel is on the right.  Although neither site was overly crowded when we visit, you may wish to glance at each parking lot to decide which spot to hit first.  The swinging bridge is accessible year-round, while the Carousel is open weekends in May and September and daily from Memorial Day to Labor Day.