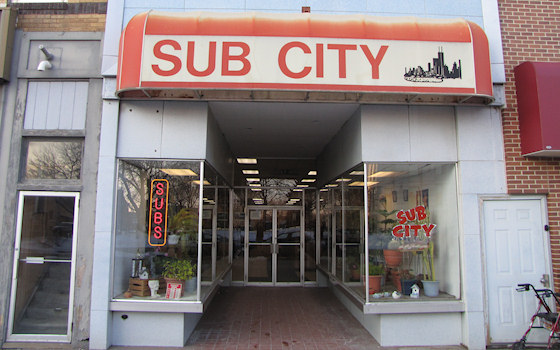 Across from the courthouse in downtown Marshalltown, Iowa, is Sub City – an independently-owned sub shop serving big sandwiches at small prices.  When you enter, you'll find a large framed menu on the east wall listing all 30 sub possibilities, composed of various meats and cheeses.  Each is available on wheat or white bread, in either whole (foot-long) or half length.
What sets Sub City apart from its chain-store competitors is your meat and cheese is cut specifically for your sub order.  The standard "works" New Jersey-style set of toppings is recommended (tomato, lettuce, onion, oregano, salt, pepper, oil and vinegar), especially for your first visit, but feel free to customize your sub from their extensive list of extras.
Beyond the subs, you can add on chips or a can of pop for $1 each; they also serve generously-sized fountain drinks starting at 70 cents.  From the sandwich to the sides, you'll find the order process efficient; even the large lunch lines move quickly.
Though the dated store interior could use a refresh, it's the fresh-made food and friendly service that shine at Sub City.  If you're in the Marshalltown area and in need of a quick lunch or dinner, make the drive downtown for a meal at Sub City.
Sub City
8 E. Main Street
Marshalltown, IA 50158
(641) 752-1375