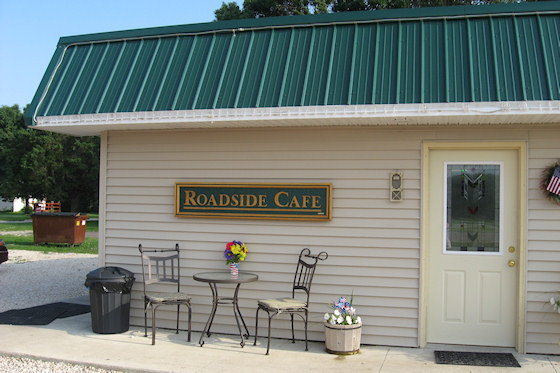 I love the retro soda sign that stands outside the Roadside Cafe in Fonda, Iowa.  One side features an eighties Mountain Dew logo, while the other contains the Pepsi logo from the same era.  The cool sign drew us in, but the quality food and service has drawn us back each time we've driven through town.
Sporting lime green booths and and a hodge-podge of country decor, the small cafe serves a variety of short-order entrees, ranging from the standard burgers and chicken strips to the less common smothered enchiladas and mini tacos.  Everything we've tried, from the curly fries to the cheeseballs to the chicken salad sandwich, has been top-notch, especially in comparison to the average local eatery.
Service is noteworthy too; the waitstaff are friendly and food is prepared quickly and served promptly, making for an enjoyable all-around dining experience.