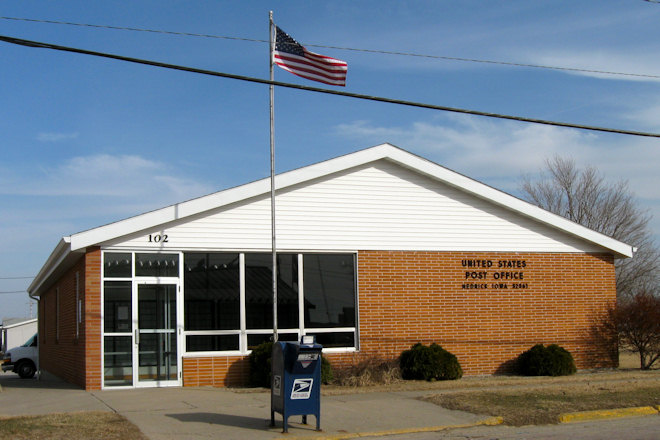 Postal service was established in the Keokuk County community of Hedrick in January 1883. After being housed in an active bank building, former bank building and former general store, the current post office facility debuted on March 1, 1966. The building was constructed at a cost of $27,559 and featured nearly double the space of the prior location. Much more historical information about the Hedrick Post Office can be found in the community's 1982 Centennial book, including this sad but interesting tidbit:
Kenneth A. Longaker, temporary rural carrier on Hedrick Route 1, was presented a certificate and lapel emblem from the postal department in September 1962. The award was given as a symbol of postal tradition of seeing that the mail goes through despite adverse conditions.

On September 3, 1962, Longaker started on his route, which served the [rural station in nearby Farson.] He found the office closed although it was 10 a.m., unable to deposit the mail pouch and pickup outgoing mail. Longaker went to the home of Don Meeker, clerk in charge, and found him lying unconscious on the floor. He summoned a doctor and the county sherriff.
Though Meeker sadly died later that day of a self-inflicted gunshot wound, Longaker finished his rural route then returned to Farson. Despite the long day and tragic death, Kenneth Longaker distributed the mail to the Farson patrons on his own time.