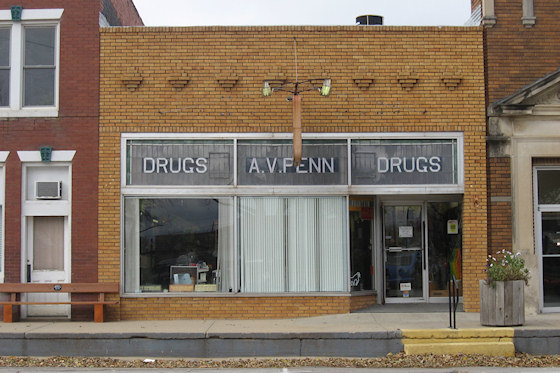 The small community of Sidney, Iowa, is home to the state's oldest pharmacy.  Located on the west side of the square, Penn Drug Co. has been in business for nearly 150 years.
Enter the front door and you'll find perfumes and lotions behind glass on antique shelving lining the north wall.  If you're not stopping to fill a prescription, you can peruse the selection of Russell Stover chocolates, pick out a greeting card, or grab a seat at the old-fashioned soda fountain.
The entire soda fountain is charming, with surprisingly comfortable stools and a classy black marble counter.  For under a dollar, you can enjoy one of their featured flavors of ice cream, while pops and phosphates are even cheaper.
Beyond drinks and dessert, a variety of sandwiches are available, including ham, tuna and chicken salad – all of which are served on toasted white or wheat bread with a side of chips.  In addition, guests can enjoy a liverwurst and cheese sandwich or a number of microwaved canned soups.
Whether you're looking for a soda, malt, or even a full lunch, the Penn Drug Co. is worth the 15-minute drive off the interstate.  Be sure to take a few minutes to walk around the town square, anchored by an historic courthouse constructed in 1889.
Penn Drug Co.
714 Illinois St.
Sidney, Iowa 51652
(712) 374-2513