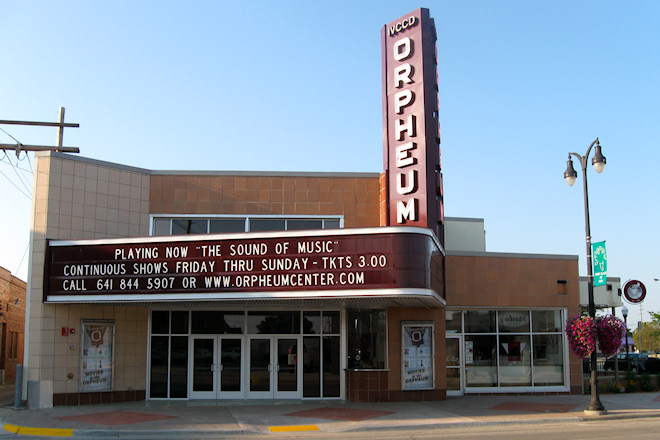 In 2001, operations at the two-screen Orpheum Theater were discontinued as the owners shifted their focus to the growing multiplex at Marshalltown's mall. When it looked like the Orpheum was destined to be demolished, local citizens formed a non-profit organization, The Orpheum Centre Inc., dedicated to purchasing and restoring the historic theatre, which was originally built as a single-screen movie house in 1948. The organization purchased the building from the Iowa-based Fridley Theatres chain in 2002 and began efforts to renovate and repair the dated facilities. In 2005, the organization partnered with the Iowa Valley Community College district to repurpose the theater as a multi-use facility. The $3.4 million renovation project was completed in July 2010, and the theater reopened with a 4-day celebration that brought more than 1,000 guests.
The revived theater began showing classic movies on the weekends, at a cost of just $3 per ticket. Theatre Director Pip Gordon told the Marshalltown Times-Republican his goal was to "have a family of four get admission, popcorn and a drink for under $20." Attached to the theater is the Orpheum Coffee Shop, which is open Monday through Saturday for breakfast and lunch, serving coffee, smoothies, wraps, ice cream, and more. Community College courses began in the Orpheum in Fall 2010.
For more information, including showtimes, see the Orpheum Theater's website.
July 18, 2009 Photo: