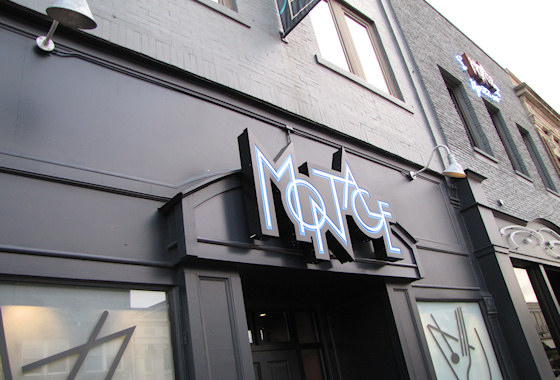 Cedar Falls, Iowa, may be home to one of the best Main Streets in the state.  Bookended on the north by a city park along the Cedar River, and on the south by a modern public library, this downtown shopping district features a number of charming local businesses, including a children's gift store, trendy salon, and landmark hotel.
Whether you're spending a few hours shopping in the downtown district or just looking for the best dinner option in the Cedar Falls area, you'll want to check out Montage, a hip restaurant with a stellar atmosphere, professional service, and a creative menu.
Our meal started with the waitress-recommended chicken empanadas, one of several unique appetizers that are a several cuts above most standard restaurant fare.   Entrees for the evening were also a hit, with Amanda choosing the sun-dried tomato pesto pasta with chicken.  I tried the seasonal pasta, tossed in a cool lime cream sauce and topped with blueberries, a dish that ranks among the my all-time favorites from Iowa restaurants.
Beyond pasta, you'll also find beef, chicken, seafood and vegetarian entrees on the varied (but not ridiculously extensive) menu.  If you still have an appetite left following your main courses, dessert comes recommended.  The traditional creme brulee capped of an enjoyable dinner experience from start to finish.
Montage
222 Main Street
Cedar Falls, Iowa 50613
(319) 268-7222