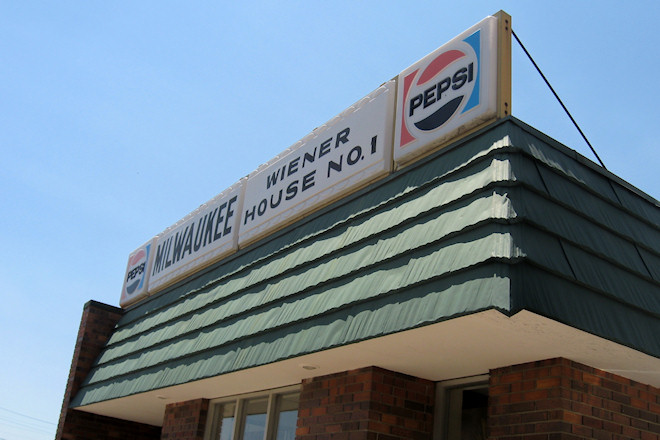 Not much has changed over the last forty years in the Milwaukee Wiener House in downtown Sioux City. From the green formica booths to the old-fashioned cafeteria trays to the wood-paneled walls, you'll step back in time when you step inside the front door and to the counter to order your food. A handful of menu items are displayed on the framed menu on the wall, split into three columns. Most diners will order a hot dog, taken from the large rectangular grill which sits along the front window.
The most common hot dog configuration is with mustard, home-made chili, and onions. Big eaters may need two or three hot dogs to satisfy their hunger, or choose from the handful of sides including soup, chili or chips. If you're not a hot dog fan, try a hamburger patty topped with cheese and/or chili. After paying for your meal (with cash only), grab a seat in one of the booths along the wall. Several historic (and interesting) newspaper articles are framed throughout the clean dining area, or take a seat under the first mustard stick, which supposedly was used to top over 10 million hot dogs.
The Milwaukee Wiener House is open Monday through Saturday from 6 a.m. to 5 p.m.
Milwaukee Wiener House
309 Pearl Street
Sioux  City, Iowa 51101
(712) 277-3449