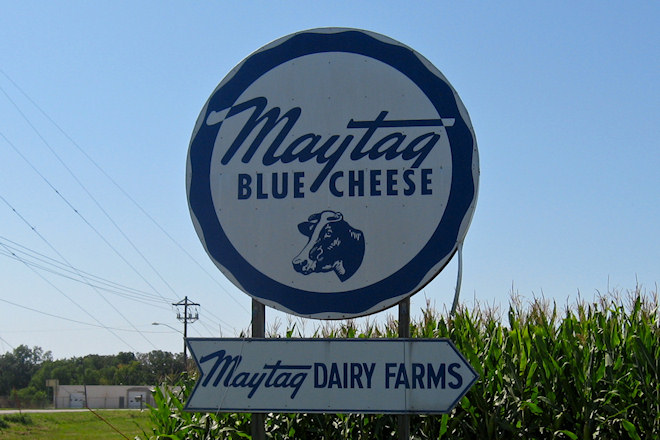 The city of Newton, Iowa, will always be linked to the Maytag brand. The famous appliance manufacturer was founded in Newton in the late 1800s and operated for well over a century before closing its doors in October 2007. Before being purchased by Whirlpool Corporation, Maytag's Newton headquarters and factory had over 3,000 employees, or the equivalent of one-fifth of Newton's population.
While the city is still working to create jobs to offset the losses created by the appliance manufacturer, another local Maytag brand is running strong.  Located just outside the city limits, it's the Maytag Dairy Farms, which is known across America for its famous blue cheese. Their blue cheese process dates to 1941 and still involves cave aging and formation of each cheese wheel by hand.
While the cheese itself can be found at many supermarkets around the nation, the company headquarters is well worth a visit, especially if you're in the Newton area.  The exterior of the headquarters building is modern and nondescript, but the cheese-filled coolers inside the lobby easily offset any lack of atmosphere.
In addition to the popular Maytag Blue cheese, sold in sizes ranging from one ounce to four pounds, you'll find locally-produced Maytag White Cheddar, Brick, Edam, Baby Swiss, Smoked Swiss and Aged Swiss cheeses available to sample and purchase.  If you're curious about the taste of a specific cheese, don't be afraid to ask for samples; the staff is extraordinarily accommodating.
While you're perusing the cheese selections, check out the monitor which shows stock footage of the cheese production process.  You can glance out the window to the farm where the cheese is produced.  If you have the time, ask about the 12-minute video, which offers a more in-depth look at the dairy's cheese production process.
Maytag Dairy Farms is open Monday through Friday from 800 to 5:00 and Saturday from 9:00 to 1:00.  If you're traveling from out of town, don't forget to pack a cooler to store your purchase.
Maytag Dairy Farms
2282 East 8th Street North
Newton, Iowa 50208
(641) 792-1133
Official Website