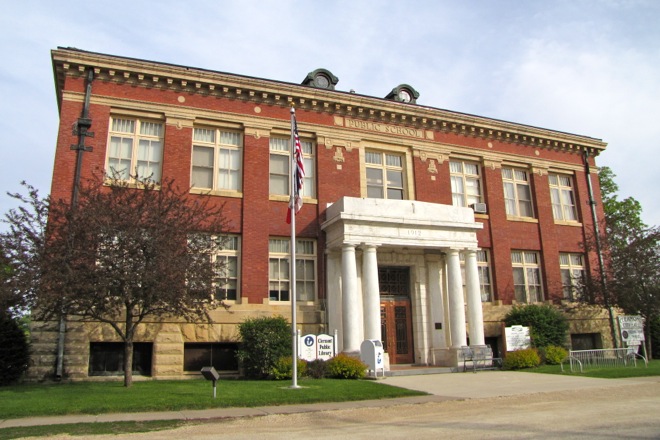 Former Iowa Governor William and Anna Larrabee spent many years studying school buildings before creating plans to build a state-of-the-art school facility in their hometown of Clermont. Groundbreaking began on the $100,000 brick building in May 1912. The Clermont website details interior features:
The floors of the vestibule and halls are terraza with wainscoting of white Rutland marble with sufficient veins of red and green to show warmth.  The stairs also have marble treads and metal railings finished in dark green.  All glass is plate – with nearly 5 ton in the entire building.  Each classroom has blackboards of extra heavy Pennsylvania slate.  The Auditorium… walls and ceiling are white, decorated with staff and bead and rosette designs.
The Larrabee Building served as a community school until 1990. When classes were consolidated to a single school building constructed between Clermont and nearby Elgin, the building was repurposed to serve the community. The public library moved in in 1991. The building also houses city offices, the police department, and the Sheehan-Olson American Legion Post.