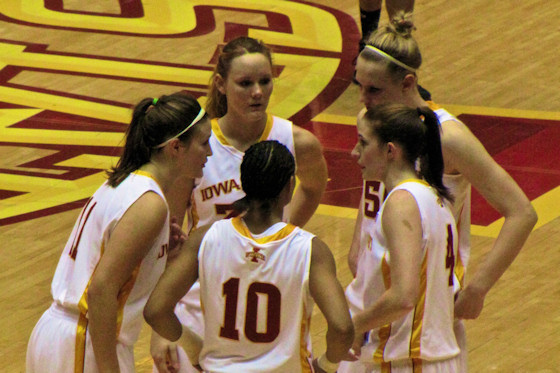 On a whim last December, I decided to pick up a five-game pack of tickets to see Iowa State University Women's Basketball games at Hilton Coliseum in Ames, Iowa.  The Cyclones have had a long stretch of success under veteran head coach Bill Fennelly, and this year has been no exception.  Though many expected it to be a rebuilding season, the Iowa State women have racked up 20 wins, are near the top of the Big 12 conference standings, and are all but guaranteed an 11th NCAA Tournament berth.
Australian native and senior point guard Alison Lacey is the unmistakable team leader and face of the program.  Last night, she cemented her place in Cyclone history, becoming the first player to tally 1,500 points, 500 rebounds, and 500 assists.  Six-foot-seven post player Anna Prins is one of four exciting freshmen to watch, while Senior Denae Stuckey consistently brings energy to both the offensive and defensive ends of the court.
There is a group of talented Iowans on the team as well, including Ida Grove native Kelsey Bolte, a junior point guard who is one of the best three-point shooters in the nation.  Freshmen Chelsea Poppens and Amanda Zimmerman, from Applington and Huxley, respectively, have also been key contributors this year: Poppens leads the team in rebounds, while Zimmerman is averaging over 5 points per game and shooting over 50% from the floor.
Beyond the entertaining brand of basketball you'll find on the court, Hilton Coliseum is a great venue, and Iowa State fans are among the most loyal and enthusiastic in the country.  The Cyclones regularly rank among the top five schools for women's basketball attendance and are averaging over 9,000 fans a game this year.
If you want to catch the Cyclones in action, there are two home games left this season: February 27 against Kansas State and March 6 against Colorado.  Reserved tickets are just $12, while general admission seating is available for only $10.  If you attend, give yourself plenty of time to park, and budget a few extra dollars for concessions: a hot dog costs $3, while a 20 oz. bottle of water or soda will set you back $3.50.
Iowa State Women's Basketball
For tickets, go to cyclones.com or call (515) 294-1816.