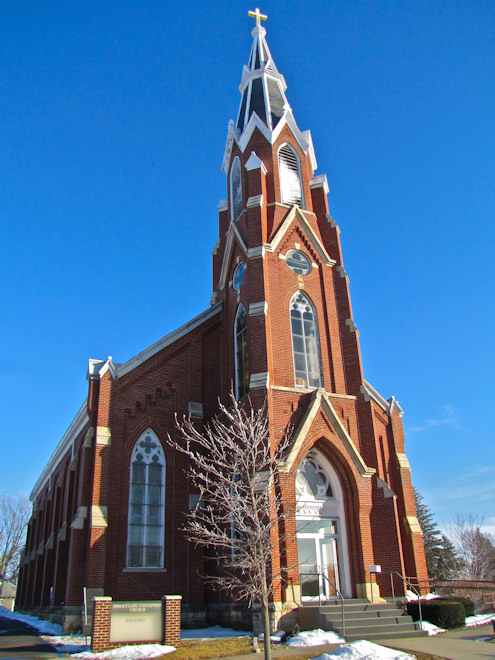 Immaculate Conception parish in the Marshall County town of Haverhill can trace its history to October 20, 1877, when a meeting was held among twelve German- and nine English-speaking families to establish a Catholic church. By 1879, a small frame church was completed a mile west of the present site at a cost of $1,285. As part of an extension of the Chicago, Milwaukee and St. Paul railroad, the town of Haverhill was officially platted in 1881, and the building was relocated to the present church site.
The parish grew to 73 families by 1900, and quickly the frame church was too small to accommodate the congregation; ground was broken for the present church the following year. Constructed in the Gothic design, the red brick and white stone building measured 48 x 118 feet with a 13-story tower. The new church was formally dedicated on October 22, 1902. As noted in the Haverhill, Iowa, centennial book, "the day was ideal… clear and bright after several days of rain."
After 105 years of services, a final mass of closing was held at Immaculate Conception on Sunday, July 1, 2007. The church was designated an Oratory, allowing funerals and weddings of the certified membership only. Masses are held each May and December.