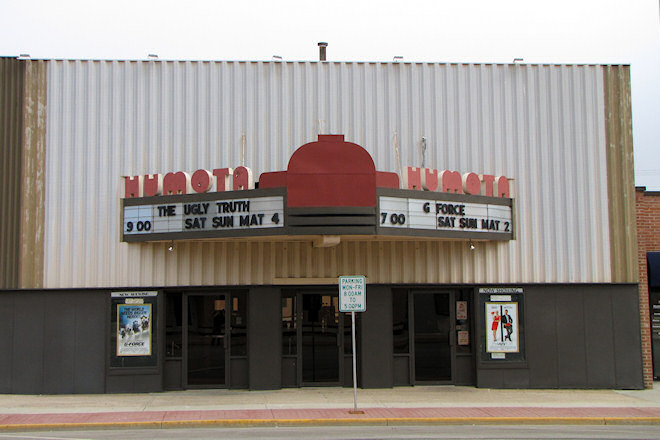 The Humboldt Independent touted the July 1928 opening of the Humota Theatre as "more proof that Humboldt was a prospering little city." The Humota was considered to be one of the finest in northwest Iowa, with fireproof walls, state-of-the-art "moving picture machines," leather-cushioned seats, and attractive side lighting. The name was proposed by resident John Green as a combination of the adjacent Humboldt and Dakota City. "Humota" was chosen over suggested alteratives including "Idelhour," "Dreamland," "Taft," and others.
The first picture shown at the theatre was "The Cossacks," a silent black-and-white film considered to be one of the best productions of 1928. Though a specific count wasn't provided, the Independent wrote the new movie house drew a "splendid crowd" on its opening evening and a "success both considering the entertainment and the reception of the new building by the public."
A major remodeling project in 1983 added the metal exterior along with entirely new auditorium seating.  Additional upgrades were made to the theatre in 2008, when cup holders were added to seats, a new screen was installed, and a digital surround stereo was implemented. Movies are shown twice daily at the Fridley Theatre-owned single-screen theatre with an additional matinee showing on Saturdays and Sundays.