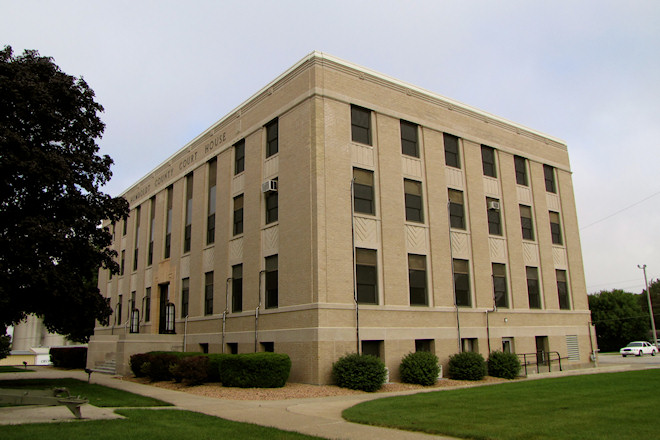 While Dakota City has only one-fifth the population of adjacent Humboldt, it has retained its status as county seat since Humboldt County was established in June 1857. As the adjacent town of Humboldt (then called Springvale) grew, several challenges were made to Dakota City's status as county seat, and a proposal in 1872 to combine the communities and build a new courthouse building failed. A red brick courthouse was ultimately constructed in Dakota City in 1873, though the county seat location remained a controversial topic.
As businesses and churches relocated from Dakota City to Humboldt, the residents of Humboldt grew emboldened in their beliefs the county seat should be relocated. Humboldt resident T.W. Rogers argued in 1910 that "Dakota City had no sewerage, fire protection or police… there is no lawyer, doctor, bank, large store or any business enterprises." He highlighted the lack of a restaurant or hotel, noting out-of-towners with courthouse business had to stay in Humboldt and walk to Dakota City.
In 1918, a vote to merge the towns failed, with Dakota City residents voting 56 to 45 to stay separated. In 1923, a proposal to replace the dilapidated courthouse in Dakota City was met with strong opposition from Humboldt residents. In 1936, the Works Projects Administration stepped in and helped the citizens of Humboldt County with $185,000 for use in construction of a new courthouse. A bond issue to add $95,000 to the WPA contribution passed easily, and the current (pictured) courthouse was ready for occupancy in 1939. The courthouse was listed on the National Register of Historic Places in 2003.