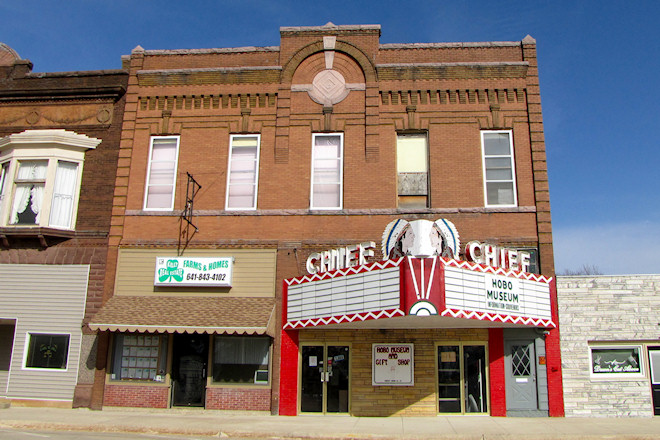 The Hancock County town of Britt has been connected with hobos since 1974, when several Britt residents joined with hobos Hood River Blackie, Steamtrain Maury, and Feather River John to establish the non-profit Hobo Foundation. After its launch, a National Hobo Convention event was created to take place annually in Britt, and in  1988, the foundation purchased the former Chief Theatre for use as a Hobo Museum. It opened the following year.
In 2004, concerns about deterioration of the 92-year-old theatre building surfaced and the a fundraising effort began to build a new museum in Britt. After five years, only a third of necessary funds had been raised, so the Hobo Foundation board voted to shift efforts toward the improvement and renovation of the Hobo Museum in its current location. Long-term plans are still being reviewed, with immediate goals to improve the building structurally and upgrade heating and air conditioning systems.
The museum is open June through August, or by appointment; visit the Hobo Museum website for details.