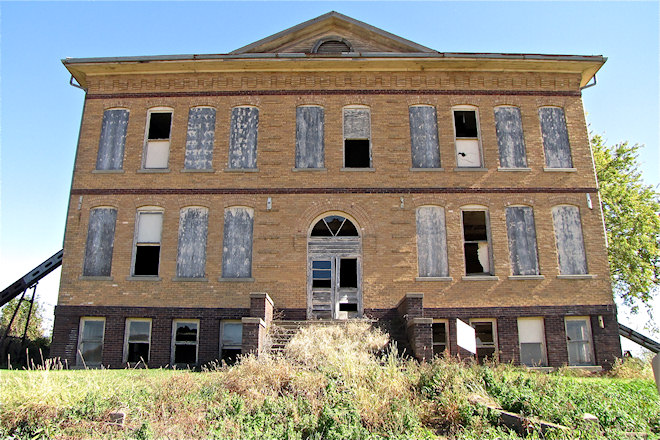 Between 1950 and 1960, the state of Iowa lost over 3,000 school districts as part of a widespread consolidation effort across the state. The Taylor County community of Sharpsburg was no exception, as on July 1, 1959, voters in the area voted to consolidate into the school district in Lenox, a larger community 10 miles to the south and west.
While students in grades 7 – 12 were bused to Lenox, the Sharpsburg building continued to operate as an Elementary School following the consolidation. In the early 1960s, the Lenox Community School District proposed a series of bonds to construct a new high school in the city of Lenox. Various versions of the proposal were voted down by district residents eight times before approval was granted to construct and equip a $350,000 high school building in 1966.
The opening of the new high school marked the end of the Sharpsburg school, as area residents could easily be accommodated in the Lenox facilities. Final classes were held in Sharpsburg in 1968, and the school was sold by auction to a local resident for $2,100 in November 1968. Following the sale, the building was the building was used to store small square bales of hay and straw.  The property is owned by the same family and continues to be used for agricultural purposes as private property.