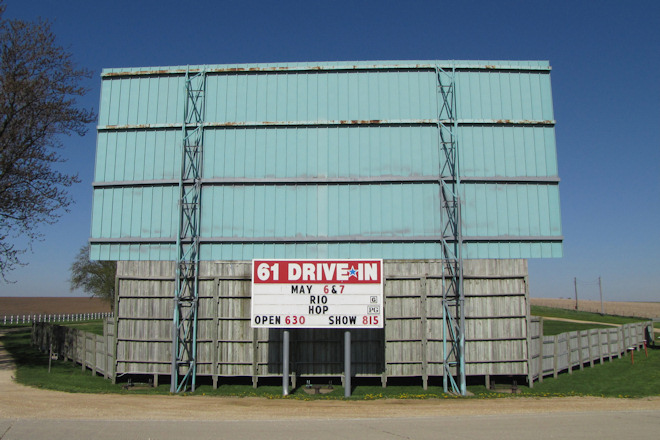 At one time, Iowa was home to more than 50 drive-in movie theaters among over 4,000 operating nationwide. While most drive-in screens in the state have been shuttered and torn down in favor of farmland or retail development, there are a handful of survivors, including the 61-year-old 61 Drive-In Theatre, located just south of Maquoketa in northeast Iowa. Named after the adjacent U.S. Highway, movies are shown Friday and Saturday nights through Memorial Day weekend, then nightly through the warm summer months.
Each showing is a double feature, with two films from the same studio played back to back. Doors open in the early evening, with ticket costs running at $7.50 for adults and $3.50 for children ages 5-12, while children 4 years and younger are free. On the weekend, it's especially important to arrive early to get your car a good spot; if the movie showing is expected to be extremely popular, it's recommended to bring along a blanket and portable radio — so if the lot is full, you can leave your car outside and still enjoy the film.
While shows don't begin until the sun goes down, there are plenty of opportunities for entertainment while at the theatre; a large children's play area features a dozen swings, while a kiddie train parades around the concessions. Take a cooler and picnic goods to enjoy while waiting for the film, or purchase snacks from the reasonably-priced on-site concession stand. Drive-In 61 in Maquoketa is extremely well-run, making for a worthy road-trip for families and friends looking for a unique and fun evening of entertainment.