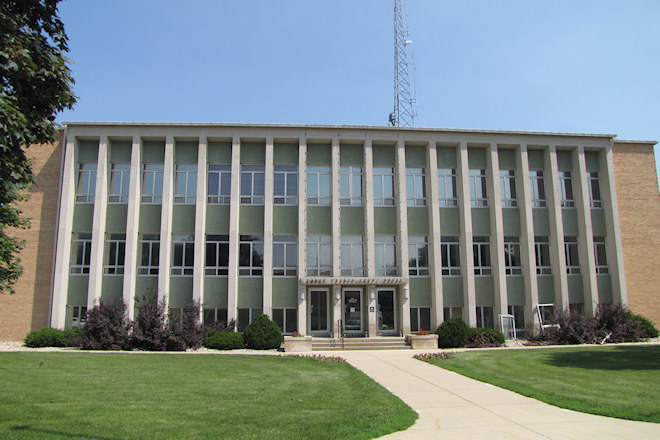 In February 1954, a grand jury of seven Emmet County residents voted unanimously to recommend the construction of a new courthouse following a report that the existing, 70-year-old courthouse was "inadequate, a fire hazard and a detriment of all citizens of the county should it burn." Within a month, a special election was approved by the county supervisors and over two-thirds of voters favored building a new $350,000 structure in the November election.
Plans were drawn for the proposed courthouse, but by February 1956, the lowest bid received was more than $70,000 over the $350,000 approved in the election. A second vote to increase the building fund failed by a 10 to one margin, sending the county supervisors back to architect James A. Dougher of Des Moines to redo plans in attempt to secure a lower bid. On March 19, 1957 a revised bid was received that met the county's budget, and the cornerstone to the new structure was laid Friday, May 30, 1957.
Construction was completed fifteen months later, and the new Emmet County Courthouse building was officially dedicated in front of an estimated crowd of 1,500 on September 14, 1958. Following the dedication, guided tours were given of the new building and dedication brochures were distributed.