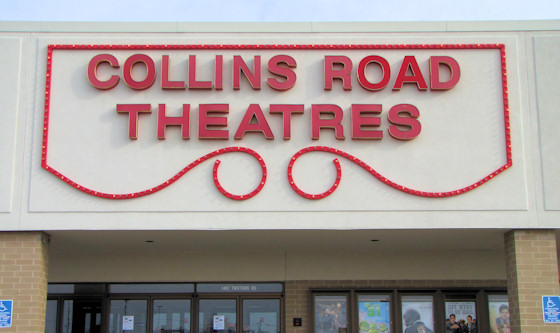 There are few more quintessential weekend activities than attending a movie at the local theatre.  Unfortunately, at most theatres it's impossible to take the family to a feature film without spending an arm and a leg.  The tickets alone for a family of four will run over $30, not to mention the popcorn, candy and soda for consuming during the movie.
Luckily, if you're in the Cedar Rapids area, there is a great movie theatre that won't break the budget.  It's the Collins Road Theatres, a locally-owned venue that shows primarily second-run movies at discounted ticket prices of $4 to $5.  Beyond the reasonable admission cost, concessions are cheap, the workers are ultra-friendly, and it's the only theatre in town to feature real butter for the popcorn.
When we were students at Cornell College in nearby Mt. Vernon, we made regular trips to the Collins Road Theatres after its opening in 2003.  Unlike many second-run theatre, Collins Road features a charming lobby, plush seats, great sound, and is all-in-all well-maintained.  As an added bonus, many of the weekend shows are preceded by an introduction from the theatre manager Bruce Taylor, including a drawing for free concessions for those in attendance.
Check out the theatre website for current showtimes; movies starting before 6 p.m. are $4.00, while all other shows cost $5.00.
Collins Road Theatres
1462 Twixt Town Road
Marion, Iowa 52302
(319) 377-4555