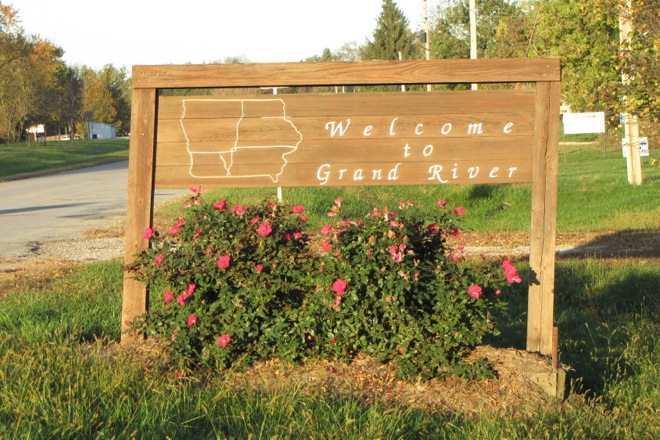 The Decatur County town of Grand River made national headlines in 1980 for being the next-to-last town in the United States to exchange their crank telephones in favor of "new-fangled dial sets or push-button models." The switch was officially made on Saturday, December 6, 1980, more than 20 months after residents voted 121-73 to replace their phone system, which was operated by switchboard.
The Burlington Hawk Eye was one of many papers to run the story. An excerpt follows:
Out-of-town callers often had to deal with confused long-distance operators to complete their calls. Directory information, for example, lists the Grand River switchboard number as only "0006."

"The biggest reason for the change was the people away from here having trouble getting their calls in here," said Ruth Bowles, 77, who with her husband, Royal, 78, managed the phone system for 39 years until Royal retired in 1977.

Mrs. Bowles will place the last call on the crank system at 1 p.m. Saturday when the Mutual Telephone Corp. of Princeton, Missouri, takes over.
The system cost around $800,000 to install; residents saw their monthly rate go from $6.04 to $10.50 for a basic dial phone or $12 for a push-button phone. Operators from the old switch-board system gathered for a final time the night before the change, in "a smoke-filled frame house down the street from the new automated switching center."
"When it was first in the news that we were going out, we had calls from everywhere," said Sue Barton, operator and bookkeeper for the company.

Ms. Barton said she and the other operators, Margaret Crees, Minerva Logan, Helen Camden and Virginia Thomas, are resigned to their pending layoffs.

Russell Vanderflught, a lineman for 17 years and manager for the last three years, said the old cracnk phones and other equipment from the system will probably be auctioned [the following spring], with proceeds divided among company employees.
The operators ran the switchboard 24 hours a day, seven days a week. Bryant Pond, Maine, was the last community in the united states to go to dial phones. The change was made on October 11, 1983.