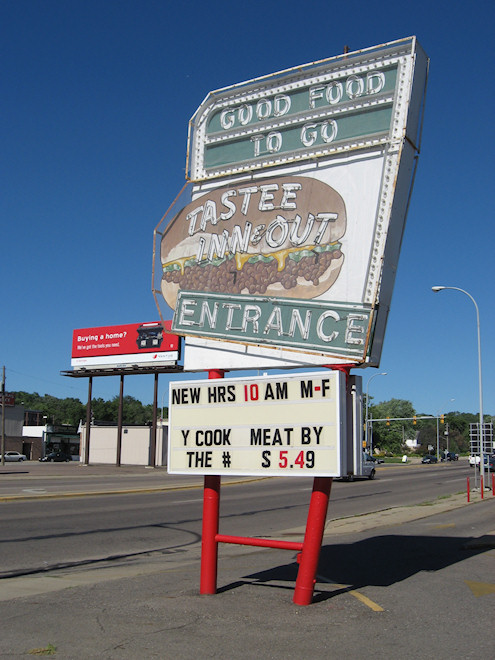 Keep your expectations realistic when you enter the drive thru lane at the Tastee Inn & Out, a long-standing institution located just east of Business Highway 75 near downtown Sioux City. The food will be greasy and atmosphere non-existant, but it hits the spot when you're looking for a local fast-food choice with some menu options you won't find anywhere else in the area. It all starts with their onion chips, thick-cut onion pieces that are battered and deep fried, served with a side of ranch-like dressing. The chips are available in a number and sizes and make for a great appetizer or a meal in and of themselves.
Beyond the famous onion chips, the Tastee sandwich is another popular menu item. Wrapped in wax paper and served on a soft, small bun, these sandwiches are comprised of seasoned loose-meat hamburger, chopped onions, and a couple pickles. A slice of processed cheese can be added for a quarter. A number of meal options pair sandwiches, fries, or onion chips with one or more sodas — you can usually find a deal to meet your needs and save a dollar or two.
Tastee Inn & Out is open year-round, seven days a week for lunch and dinner.