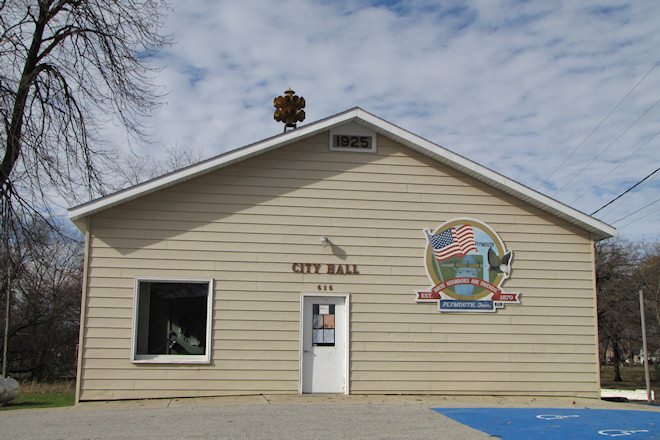 In 1994, the Plymouth City Council sponsored a logo and slogan contest to coincide with the Cerro Gordo County community's 125th anniversary the following year. The winning slogan, Where Neighbors Are Friends, was submitted by resident Deb Perry, while the winning logo was submitted by resident Wendy Wood. A large version of the logo was then painted by a Mason City artist and remains today on the front of the Plymouth City Hall.
The City Hall dates to 1925 when it was built to house the city's two water pressure storage tanks for the city's upgraded water system. The building was converted to a City Hall facility when a separate fire barn was constructed in 1958. The conversion included remodeling to add restrooms and a kitchen, and later upgrades provided space for a library and council chambers. Plymouth contracts with nearby Manly to provide the library service to its residents.
In addition to rental for family gatherings and meetings, seniors gather at the City Hall each Monday for card games, and a community coffee is held each Tuesday morning.