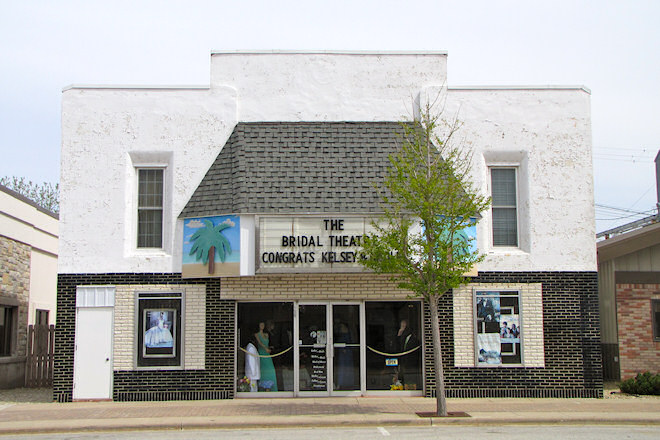 While the Mitchell County community of Saint Ansgar hasn't had an active movie theatre for over thirty years, residents and visitors can enjoy the marquee, sit in the old theatre seats, and view the original ticket booth. Spots for movie posters have been replaced with advertisements for dresses and tuxedo rentals, as the movie house has been converted to The Bridal Theatre, a local business featuring dresses and accessories for proms, weddings, and other special occasions.
Construction on the building began in April 8, 1937, and the Roxy Theatre officially opened less than four months later. The Saint Ansgar Enterprise newspaper had a number of articles highlighting the theatre's amenities, including the "finest" sound and projection equipment, "comfortable upholstered chairs," and a 12 x 16 foot screen. The Roxy also was equipped with a "crying room," a place where mothers "can take their children when they get fretty and see the picture from a glass window."
After serving as a bowling alley for a short time, the building was reopened as the Cinema Capri in October 1977. The Bridal Theatre business was established two years later.