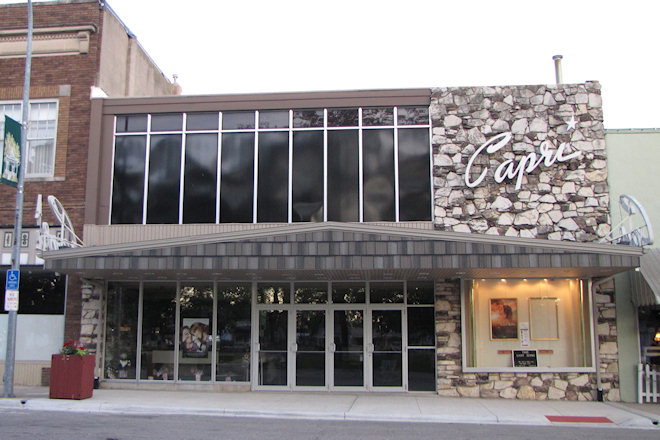 The Capri Theatre is a community-owned and volunteer-operated movie theatre located on the west side of the square in downtown Lake City in Calhoun County, Iowa. The Capri opened in 1966, over eight years after the previous Lake City theatre burned to the ground. The new theatre was constructed entirely from community funds, and operated by Bob Fridley's theatre chain. At the time of opening, the Des Moines Register called the theatre "Iowa's most modern and luxurious."
As multi-screen cinemas debuted in nearby Carroll and Fort Dodge, the Capri had difficulties obtaining the latest movies. Combined with the nationwide rural farm crisis, business significantly dropped in the 1980s, causing Fridley to close the theatre. Community members persuaded him to reopen (and remodel) the theatre in the following decade, but the Fridley-operated Capri closed for good in 2001.
Following the closure, a group of Lake City citizens banded together (again) and were able to convince Bob Fridley to donate the theatre to the community. Since, a nonprofit corporation has been established and volunteers have operated the Capri continuously since 2003.  The theatre, which only charges patrons $2 to see any show, has built an operational reserve while improving the facilities and distributing scholarships to area high school seniors.