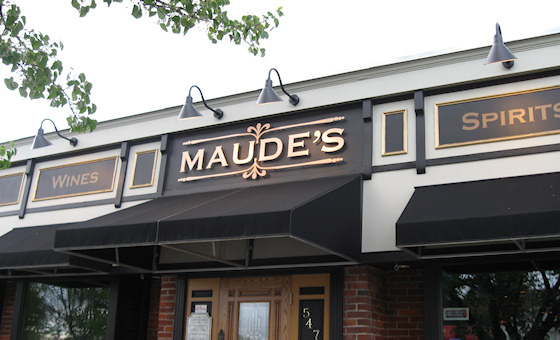 While we regularly enjoy trying new restaurants, it's important to have a local place to turn to for consistently good food.  When we were students at Cornell College in Mt. Vernon, Lincoln Cafe was our favorite dining spot.  During our time in South Dakota, a trip to Alcester Steakhouse always brought great eats.  Now that we're settled in central Iowa, we've found a new favorite in Aunt Maude's, an excellent restaurant in downtown Ames.
The menu at Aunt Maude's provides great variety without overwhelming diners with an exorbitant amount of choices.  The Chef's Features section of the menu changes regularly and definitely worth review.  The Pastas and Entrees lists feature several  fine options like the Blackened Chicken Angel Hair Pasta tossed with tomatoes, onions, mushrooms, garlic and a light cream sauce.
If you're on a budget, you can't go wrong with the sandwich options; Maude's Burger and the Bacon & Swiss Grilled Chicken are each served with tasty thin-cut French fries.  Light eaters will appreciate the Bistro Classics After Five, which offers smaller portions of five entrees along with soup or salad at a lower price than their full-portion counterparts.  Try a hand-made strawberry lemonade with your meal and save room for dessert.  Their Creme Brulee, served with two dark chocolate cookies, is the terrific.
Beyond the rave-worthy food, we've consistently been impressed with the friendly and knowledgeable staff.  Located near the end of the pleasant Main Street shopping and dining district in Ames, Aunt Maude's boasts top-notch food and service, all in a cozy, inviting atmosphere.  It's well worth a lunch or dinner stop if you're in the Ames area.
Aunt Maude's
547 Main St.
Ames, IA 50010
(515) 233-4136
Official Website